Wrecking Ball
Talk

3
1,529pages on
this wiki
"Wreck-N-Roll!"
—Wrecking Ball's official catchphrase
Wrecking Ball is a grub worm who is one of the playable Skylanders in the Skylanders series, first appearing in Skylanders: Spyro's Adventure.
Background
Biography
Wrecking Ball was once a tiny grub worm about to become the main ingredient in an old wizard's cauldron of magic stew. But when he was dropped in, the wizard was shocked to see the little grub devour all of the soup and emerge from the cauldron 20 times larger and with a long, sticky tongue. The poor old wizard was even more surprised seconds later, when Wrecking Ball proceeded to swallow him whole. Eventually he ran, quite literally, into the powerful Portal Master Eon, who was intrigued by how he came to be and impressed with his unique abilities.
Abilities
Having consumed an entire cauldron of magic stew, its effects not only made Wrecking Ball grow 20 times his normal size and enhanced him with magical energy, but also gave him a long, sticky tongue which he uses to lash at his enemies. He can also curl into a ball and steamroll into his enemies using the magical energy he uses as a forcefield. Wrecking Ball can also let loose out a burp of gas from his mouth to blow enemies away, and can also devour his enemies to regain health if he has gained his Soul Gem ability.
Stats
These are the starting and maximum statistics for this Skylander in the console version of the games.

Health: 270 (max. 540)
Speed: 43 (max. 91)
Armor: 24 (max. 54)
Critical Hit: 20 (max. 70)
Elemental Power: 25 (max. 100)
Warning: These stats are not used in any of the Skylander games. They are only listed for completeness reasons.

Strength: 35
Agility: 50
Defense: 90
Luck: 60
Powers and Upgrades
Basic Abilities
These abilities are available from the start of the game.
Soul Gem Ability
Requires Soul Gem from:
Quicksilver Vault

Wow Pow Power

Tongue Whap
Forcefield Ball
Enemy Slurp
wowpowname

Primary Ability
Wrecking Ball slaps enemies with his super-tongue.

Secondary Ability
Summon magic for a spin forcefield charge.

Price: 4000
Wrecking Ball can swallow smaller enemies and regains 10 health when he does so.


Price: 5000
wowpowdesc

Basic Upgrades
Skylanders can buy new abilities from Persephone.
Magic Ball Control
Power Belch
Tongue Evolution
Digestive Detonation

Price: 500
Forcefield Ball can be controlled and it does increased damage.

Price: 700
Releases a burp attack that has increased range after eating something.

Price: 900
Your Tongue Whap grows longer and does increased damage.

Price: 1200
Charge up your Burp attack.
Total Tongue
This upgrade path lets you further develop your Tongue attack.
Lightning Tongue
Tongue Grabber
Tongue Supermax

Price: 1700
Your Tongue Whap can attack quicker than ever.

Price: 2200
Tongue Whap does extra damage and can pick up food and power-ups.

Price: 3000
Your Tongue grows even longer.
Ultimate Spinner
This upgrade path lets you further develop your Forcefield attack.
Forcefield Blast
Swath of Terror
It's Gotta Go Somewhere

Price: 1700
While in your Forcefield Ball, create a forcefield explosion.

Price: 2200
The Forcefield Ball is larger and does even more increased damage.

Price: 3000
While in your Forcefield Ball, create a more powerful burp attack.
Skylanders gain new abilities automatically based on their level.

Starting Powers
Slurp! (Primary Attack): Lash at enemies with your tongue.
Burp! (Secondary Attack): Let loose a burp, and enemies hit by the burp gas will take damage from the gas for a few seconds.
Upgrades
Clump! (requires level: 2): Roll into enemies to zap them using your forcefield.
Gulp! (requires level: 5): Hold to make Wrecking Ball slingshot forward with his tongue, damaging enemies he hits.
BURRRP! (requires level: 8): Hold (x) to charge up a massive burp,then release to launch Wrecking Ball into the air while blasting enemies around him.
Minigame Abilities
Skylanders get special abilities in minigames based on their element.
| | | | | |
| --- | --- | --- | --- | --- |
| Sky Defense | | Castle Assault | | Ground Defense |
| Create a vortex that pulls enemies in. | | Launch a projectile that creates a magic area that disintegrates blocks. | | Create a vortex that pulls enemies in and inflicts damage. |
Character Trailers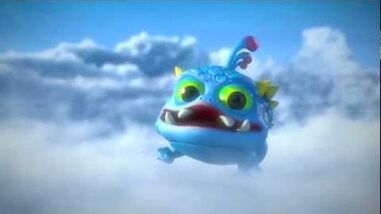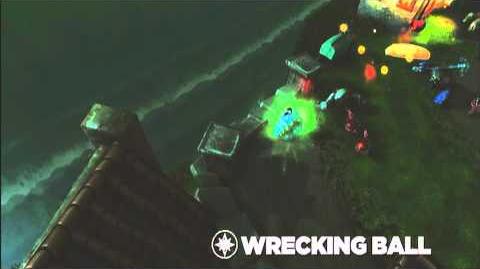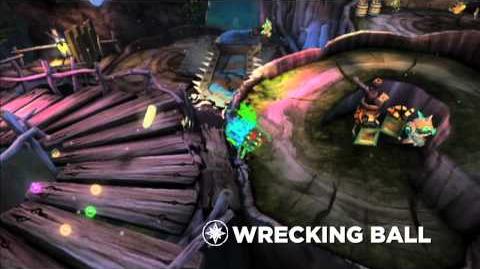 Quotes
Commercial Quotes
Gallery
Trivia
Wrecking Ball has a few similarities with the Nintendo character, Kirby. Both are cute, squishy and can devour their enemies.

Wrecking Ball also shares his tongue trait with another Nintendo character, Yoshi.

Wrecking Ball resembles the Protopets from Ratchet and Clank 2.
Although Wrecking Ball's species is said to be a grub worm, he looks neither like a grub nor like a worm.
Wrecking Ball's name, design and abilities may be a reference to the video game Iggy's Reckin' Balls.
Wrecking Ball only talks normally in the trailers. Ironically, his voice depicted in said trailers are somewhat deeper than that in-game.
His prototype toy shows that he was originally intended to be an Air Skylander. This early idea was scrapped, and Wrecking Ball was moved from the Air element to Magic.
His powers seem to be a mash up of two Ben 10 aliens, Upchuck and Cannonbolt. He has Upchuck's long tounge and ability to burp deadly burps, and Cannonbolt's ability to roll.
There is a glitch that if you go with Wrecking Ball's Forcefield Ball Path, you can go through gates in Kaos' Lair.
There is a glitch (known in the PS3, possibly in others) where, by disengaging his forcefield ball at the right time, you can go through the stairs in the Ruins.
Locations
Hubs
Ruins (Console) - Sanctuary (3DS)
Console Chapters
Shattered Island - Perilous Pastures - Sky Schooner Docks - Stormy Stronghold - Oilspill Island - Dark Water Cove - Leviathan Lagoon - Crystal Eye Castle - Stonetown - Treetop Terrace - Falling Forest - Troll Warehouse - Goo Factory - Battlefield - Crawling Catacombs - Cadaverous Crypt - Creepy Citadel - Molekin Mine - Lava Lakes Railway - Quicksilver Vault - Arkeyan Armory - Lair of Kaos
Console Battle Arenas
Cyclops Square - Mushroom Grove - Aqueduct - Troll Factory


Pirate Grotto -

The Necropolis -

Icicle Isle -

Cube Dungeon -

Volcanic Vault
3DS Realms
Towersight Fields - The Proving Grounds - Flooded Viaducts - Radiant Fountain - Dreamgardens - Ashburrow - Magma Bank Island - Cinderstream Pass - Luminous Quarry - Lava Flow Grotto - Snowblind Hills - Frostsedge - Glacial Slopes - Icelight - Aurora Peak - Leaflook Village - Breakmarsh - Daystar Temple - Treetop Circle - Waterwalk Way - Sunblight Wood - Thundersquall - Whipwind Mountains - Stormseye - Galecrack Castle - Dark Mirror
Adventure Pack Chapters


Pirate Seas -

Darklight Crypt -

Empire of Ice -

Dragon's Peak
Locations
Hubs
Cap'n Flynn's Ship
Console Chapters
Time of the Giants - Junkyard Isles - Rumbletown - Cutthroat Carnival - Glacier Gully - Secret Vault of Secrets - Wilikin Village
- Troll Home Security - Kaos' Kastle - Aerial Attack! -Drill-X's Big Rig - Molekin Mountain - The Oracle - Autogyro Adventure
Lost City of Arkus - Bringing Order to Kaos!
Console Battle Arenas
Cyclops Square - Mushroom Grove - Aqueduct - Troll Factory
Slime Pipe
3DS Realms
Pirate Bay - Head Hunting - Lost and Found - Through the Ruins - Tiki Rumble - Sand Trap - The Tar Pits - The Windy Dunes -
A Walk in the Park - Westernland - Tunnel of Love - Murky Waters - Stuck in the Mud - Overgrowth - Marsh Madness
- Cannon Fodder - Ships Ahoy - Phantom Tide Rising - Saving Skylands
Adventure Pack Chapters


Pirate Seas -

Darklight Crypt -

Empire of Ice -

Dragon's Peak