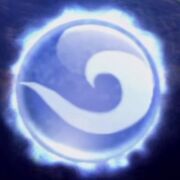 Wind is one of the four breath abilities used by Cynder in The Legend of Spyro: Dawn of the Dragon. This was one of the natural elements Malefor learned in his earlier days.
Symbol
The symbol of Wind looks like a white swirl of wind on a background of gray-blue. It is Cynder's most useful element (in basic form).
Attacks
Primary Wind
Cyclone: Cynder can unleash her wind element that can summon a powerful gust of wind that blows enemies off the edge.
Super Cyclone
Ultimate Cyclone
Secondary Wind
Twister: Cynder can unleash her wind element to transform into a swirling tornado that spits deadly debris
Super Twister
Ultimate Twister
Effects
Using Cyclone and Twister will leave the enemies body coated in Wind magic, making them levitate up in the air, allowing Cynder to gain an advantage to attack them.
Gallery
Trivia
Surprisingly, Wind is one of the elements that is not sinister and dark, like Poison, Fear, and Shadow.
The Air Element in Skylanders is often mistaken as "Wind."
Cynder's true element is implied to be Wind.[1]
According to lead concept artist Jared Pullen, the wind element came from an entity of light that created the other elements (Fire, Electricity, Ice, Earth and Water).[1]
While Cynder's other Elemental Breaths can be mirrored to Spyro's (Fire and Poison both deal damage over time, Earth and Shadow are both physical forms of attack, and Electricity and Fear both stun enemies), Wind and Ice have next to nothing in common, save that both of them prioritise utility and support, with Wind being capable of enemy position control, and Ice being capable of freezing enemies solid.
In the first game of the trilogy, Wind was initially associated with the Earth Element until later on, the Chronicler told Spyro that Wind was just another element that creatures like Malefor had learned. Also, the changes in the Wind element moving away from the Earth element and the two being their own type of magic is seen in the second game where the Earth attacks used green non-gusty effects, and the third and last game using solid materials for each attack. These changes could be a coincidence though.
References