Hi, welcome to Spyro Wiki! Thanks for your edit to the Volcanic Vault page.
Please leave a message on my talk page if I can help with anything! -- Aura24 (Talk) 03:39, January 7, 2012
About the Block
Edit
I am sorry for blocking you without relising that you were adding correct infomation. Don't worry about the risk of being blocked again; our rules for Skylanders have been relaxed, and now we have to give out warnings. This is not a warning; this is an apoligy. :) UxieLover1994 12:21, January 14, 2012 (UTC)
Alright, just please understand I am only here to help. I really do have the game on all consoles. I have only beaten it on the PS3 and 360 right now tho as I did not start buying it until around December. It takes a lot of time doing it twice getting 100% trophy's/achievements along the way. The Skylander's Guide in America isn't even 100% accurate with the hats.
On a side note please understand I still had to serve a day of being banned that I even tried to have removed earlier and the system wouldn't allow it, if it is possible I do ask that if the Ban tickets are saved somewhere please remove the one that was given.WickedRogue 12:37, January 14, 2012 (UTC)
I though Aura unblocked you... Some of our pages are still protected. I'll insure they will be unprotected soon, but you are allowed to edit most of those pages four days after you join the wiki. (You're now able to edit them, as you've been here for a whole week).
I will remove your ban ticket if the log says you are still blocked. The rules are not as strict as before now, so feel free to edit the pages for the games. :) UxieLover1994 12:56, January 14, 2012 (UTC)
She tried to unblock me but for some reason the Wiki itself insisted on a 24 hour ban.WickedRogue 12:58, January 14, 2012 (UTC)

If it's because of the rules, then please note that the rules are not as harsh, now. But if it's because of the Wikia Staff, that's just them. They will ignore us for everything. UxieLover1994 13:00, January 14, 2012 (UTC)
I don't know how Wiki handles ticket bans and stuff. I just want a clean slate is all. If a temp ban is just a ban that vanishes automatically then don't worry about it. It's just weird stuff like I don't even usually go on Wiki's but the info for this game besides the regular stuff it is so rare that I came here as I saw it has more info then any other place so far. The only other thing I know for sure the Heroic Challenge page needs tho since it has tips is a tip for the Drobot one as that is the hardest one avaliable so far. I don't yet know the best strategy of how to explain it properly yet but I have done it with about 8 characters. WickedRogue 13:16, January 14, 2012 (UTC)
Thanks for the High-Def, real taken pictures! Your better than Leland turbo. He spams and says "innaproriate" things on chat. -- Beautiful Heart ♥ 15:12, January 15, 2012 (UTC)
Your welcome, it took me like 4-5 times to get that pic because the glare off of the actual plastic they put over it is annoying. WickedRogue 01:16, January 16, 2012 (UTC)
I haven't played it yet. I didn't even touch him yet. I'll tell you when my parents let me play. --

Rarity 16:25, January 18, 2012 (UTC)
dragons peak
Edit
On chat you said you knew where dragons peak goes can you tell me?--Shadow Dragon of Darkness. 09:50, January 31, 2012 (UTC)
I can't show you but I can tell you, it goes to the left of Persephone the very top of the hill. It pops up like Dark Crypt aka it has extra lines that split the Adventure from the Ruins. Thus why it is so hard to find it from non glitches unlike Empire of Ice. WickedRogue 10:32, January 31, 2012 (UTC)
Shiny Characters
Edit
YOU ARE AN AMAZING FINDER. Sadly they aren't shiny in the game :( How many shinies you got? I got 4.
I have 4 also. At the rate it is going tho I expect all 32 Skylanders to have a different color set. I still prefer the Legendarys over them tho sadly. lolWickedRogue 15:05, February 8, 2012 (UTC)
Dragon's Peak
Edit
How did you get it in the first place XD. Although that might not be your Sunburn, but the pre-made Sunburn from the commercials.Doomega 22:02, February 8, 2012 (UTC)
i noticed you posted a pic of alchemist on the portal.are you a desinder for the gamee or sometin alchemist isnt even out yet also do you know wat his attacks are?Doomega 22:14, February 8, 2012 (UTC)
Ello govna Nice evening we having want to Chat?--Shadow Dragon of Darkness. 07:15, March 12, 2012 (UTC)
Hello, you were away as always!WickedRogue 16:59, March 12, 2012 (UTC)
Wanna chat?
May the odds be ever in your favor! 23:12, March 24, 2012 (UTC)
Im sorry:
Edit
Hey Rogue, I wanna chat, okay? May the odds be ever in your favor! 22:45, March 26, 2012 (UTC)
Sure, sorry about last night, I wasn't ignoring anyone I just forgot I went on the chat while I was in an online game with 3 other people. Plus I ended up with new Skylander stuff.WickedRogue 00:24, March 27, 2012 (UTC)
I might be able to get the package if i do who are you in it and as for when hoping sometime in the next 24 hours.--Cloaked Man 03:42, March 30, 2012 (UTC)
How so like for USS? If just USS I mostly use Lupo and Bertha.WickedRogue 09:18, April 1, 2012 (UTC)
You still plan on getting it on Monday?WickedRogue 09:18, April 1, 2012 (UTC)
No i got it today.--Cloaked Man 03:28, April 5, 2012 (UTC)
Cool, we can play in a bit, Regular or Special?WickedRogue 03:35, April 5, 2012 (UTC)
"The first new mission is free and will hit PlayStation Network and Xbox Live next week. However, if you like that first free taste, you'll need to shell out cash for the DLC missions that follow it."WickedRogue 01:08, April 7, 2012 (UTC)
getonchat.plz --Cloaked Man 08:13, April 11, 2012 (UTC)
Asleep?WickedRogue 06:32, April 12, 2012 (UTC)
Noes i awake.--Cloaked Man 06:44, April 12, 2012 (UTC)
If you're on, can we chat?
Life Is Only a Prologue. Heaven is Chapter 1. 16:18, June 18, 2012 (UTC)
We kinda need you on chat, Rogue.
Life Is Only a Prologue. Heaven is Chapter 1. 23:21, June 18, 2012 (UTC)
Sorry, have had a busy day.WickedRogue 08:07, June 19, 2012 (UTC)
Its okay. If you're on now, wanna chat?
Life Is Only a Prologue. Heaven is Chapter 1. 13:33, June 19, 2012 (UTC)
why did you do that
Edit
why did you block me from the skylanders wiki im only 13 years old
i will not ask you agian why did you block me from the skylanders wiki you have no idea how much you have doomed me
SPONGE. STOP, harassing Wicked, PLEASE. You are taking this too far. I don't want to have to block for a LONG time. -- Aura24 18:03, June 23, 2012 (UTC)
you dont get it i woued never say somethig like that unless it did involf my life plese tell me wicked why
Sponge, you are too young to understand the rules of the internet and how it works on wikis. Your block was only for 3 days, keep harassing Wicked, and you might be blocked a LOT longer, like a year. And Skylanders isn't your life, it's a VIDEO GAME. -- Aura24 18:32, June 23, 2012 (UTC)
one i dind ment skylanders is my life and i cant tell you i ment i havint even beat kaos yet
tow it was only three days oh
three i understand aura 24
The Fire Giant's Name
Edit
Hey I just want you to know that the Fire Giant's name is Hot Head, so you know that he's a very cool Giant.
"Don't dare the dragon."
-Spyro
---
Gpfan15
I know, looks cool.WickedRogue (talk) 00:00, August 2, 2012 (UTC)

Oh...Weebbby (talk) 12:08, October 7, 2012 (UTC)
Hey Wicked Rogue.I have a picture that I think you should post in Sidekicks.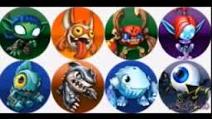 I have known about it, but they haven't been shown by Activision's main site.WickedRogue (talk) 11:35, October 21, 2012 (UTC)
I have been talking to you over xbox and my wiki account was being stupid but now it is fixed.--DarkShadowDragon 23:33, November 16, 2012 (UTC)
Hey, the heroic challenges in giants don't have numbers, but should I add them anyways? If you can figure it out, I have a few.
Tree Rex S.A.B.R.I.N.A. + 4 speed
Fright rider Delivery day +4 speed
They have numbers in the game? I don't know how you are not seeing them in game.WickedRogue (talk) 04:17, December 12, 2012 (UTC)
LOL oops! anywho, you whereby kidding about the dispensaries having better stats. WOW
I'm sorry, I have no idea what you just said.WickedRogue (talk) 03:06, January 6, 2013 (UTC)
Lol. I. Hate. Autocorrect. It doesn't show numbers on the wii heroics in giants... Anyways, what I said was thanks for saying the ledgendaries are worth it. They so stinking are!Da Man In Da House! (talk) 00:01, January 8, 2013 (UTC)
No problem.WickedRogue (talk) 01:09, January 8, 2013 (UTC)
I'm just curious about some of the "molds" that are popping up on asian shopping sites (i'm trying to find skylanders in asia, no easy task). In other words, figures made apparently from official molds but without the green/orange (some pics have them, but i still don't think their real because of the price) plate that singifies in-game abilities. They look pretty real, but i know they must be fake due to the low price tag (like $1.4-$3) (real skylanders cost from $30-120)
e.g. http://item.taobao.com/item.htm?spm=a230r.1.10.25.NJ9j06&id=16857982485 http://item.taobao.com/item.htm?spm=a230r.1.10.2.NJ9j06&id=21528760704 or http://s.taobao.com/search?q=Skylanders&pid=mm_33718370_3432349_11115751&unid=0&mode=23&from_bt=1&initiative_id=staobaoz_20130116 in general, other sites as well but i shouldn't probably link to them.
So what are these? They have molds even for the sidekicks. Just wondering what your thoughts are. Or if there's a remote possibilty that they're real and mass-produced somehow and have in-game abilities (though some's translated description states they wont work, some do state that they apparently work, but being asia, you can't hold them to that) Just curious,

Talk Page Quod may Minae sceptrum confuto! 13:12, January 21, 2013 (UTC)
They look like Skylanders that have had the inside that make them come to life taken out and are trying to sell it as claiming that they are. It's why they are so cheap, you would basically be buying something that can't be used in the game.WickedRogue (talk) 13:59, January 21, 2013 (UTC)

I know that, i'm wondering what they did with the part that comes to life. Apparently they're made out of something called PVC, is that what the normal figs are made of? These don't seem to be gueine figures, i dont even think they were ever official. If they were with the "living" part taken out, i'd think they'd at least cost about as much as a normal skylander, not a 10th. Talk Page Quod may Minae sceptrum confuto! 01:33, January 22, 2013 (UTC)
Just the short version is don't bother with that site it's not worth what it is offering is all.WickedRogue (talk) 05:05, January 23, 2013 (UTC)

Still a bit curious how they got these fakes (as due to the price, they cant be geuine even if they have the life taken out of them). Did activison like sell all the prototypes or something? -- Talk Page Quod may Minae sceptrum confuto! 14:07, January 29, 2013 (UTC)
Sidekicks
Edit
Sorry to bother you, but I was wondering why the pages for the first four sidekicks are completely blocked. I was hoping to add some more categories. Like adding "Elves" under Whipser Elf or "Water Skylanders" under Gill Runt.
High traffic pages are constantly vandalized from people, so a couple of pages have the added protection.WickedRogue (talk) 17:41, January 30, 2013 (UTC)
Admin Opinions
Edit
What do you say about this blog? http://spyro.wikia.com/wiki/User_blog:Doomslicer/Once_again_pushing_for_the_upgrading_of_Spyro_wiki_to_modern_features -- Aura24 (talk) 07:11, February 13, 2013 (UTC)
We have enough not wanting to sign up as is, and a majority that do just do silly things, I can't see how that will work. The chat room is fine as is yet people don't seem to use it much.WickedRogue (talk) 09:12, February 13, 2013 (UTC)