A while back, I reported that Activison had signed a deal with MEGABLOKS regarding Skylanders. Well, now I have found some pics of the upcoming sets. For the record, I prefer LEGO and dislike MEGABLOKS, but may get some Skylander sets from it. Maybe they'll come with some sort of special piece or code for in-game. Here is a list of the sets, along with some pics:
http://www.toywiz.com/megaskylander.html
I think this could provide some itneresting insight on upcoming levels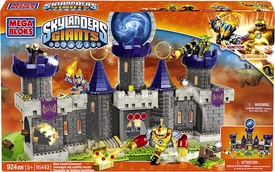 . For instance this set could be based off the upcoming Kaos's Kastle level.
Ad blocker interference detected!
Wikia is a free-to-use site that makes money from advertising. We have a modified experience for viewers using ad blockers

Wikia is not accessible if you've made further modifications. Remove the custom ad blocker rule(s) and the page will load as expected.