Skylanders 2: Giants is not being developed by toys for bob on the Nintendo Wiiu. Instead, the wiiu version will be an entirely different game in terms of engine and story from the other platforms. Vicarious Visions who is well known for developing Spyro Orange, Skylanders Spyros Adventure 3DS, and Skylanders Cloud Patrol, is developing Skylanders Giants for Wiiu, and it will be entirely different.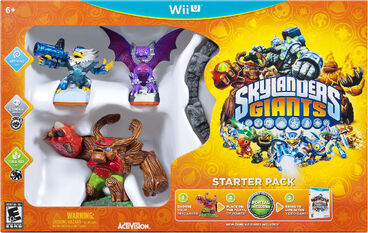 The game will release alongside the wiiu in november!
SOURCE: http://www.thehdroom.com/news/Skylanders-Giants-Wii-U-Box-Art-and-Developer-Revealed/11212
Ad blocker interference detected!
Wikia is a free-to-use site that makes money from advertising. We have a modified experience for viewers using ad blockers

Wikia is not accessible if you've made further modifications. Remove the custom ad blocker rule(s) and the page will load as expected.