Tee hee, It's me! Your still alive friend, BH!!....okay, I'm not that well known. But anyway, I've rethought my life and came back after a long time. I'll try to keep myself updated, but anyway...I've heard of the release of the new Skylanders and try to keep up with this wiki as much as a I can. I've managed to get a few pictures aswell, snap, snap, snap! Tee hee, anyway, here are the pictures!
These are the new mini-figs, the cute little sidekicks!

I've also got some pictures for the new Skylanders and Giants.
I've also got some pictures from the game!
Here's a pic from the iPhone game.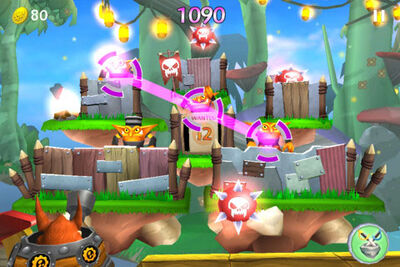 These are all the pictures I have for today, but I'll keep us updated with lots of fun pictures! Snap, snap, snap.
That's Beautiful Heart, until next time! See yaaaa!! -Beautiful Heart 15:32, August 4, 2012 (UTC)
Ad blocker interference detected!
Wikia is a free-to-use site that makes money from advertising. We have a modified experience for viewers using ad blockers

Wikia is not accessible if you've made further modifications. Remove the custom ad blocker rule(s) and the page will load as expected.