The rumor of a supposed new Spyro game coming out in 2013 is considered false, started by a user who created his self-made game company called Otipro Corporation.
This rumor was created by an anonymous user, mostly known as Cameron Rogers, who is well-known for spreading 'future Spyro games' rumors in the past. He was the one who created the Otipro Corporation Twitter account (with the Otipro Games website not even made), a fan-made website for his company, and a account on blogspot.
The only other website about the Otipro info is on the Obscure Wikia in which Cameron is active on, and he is also the one who made the Otipro Corporation page articles on some other Wikias.
This picture, which was featured on the Twitter account of Otipro Corp, was taken down: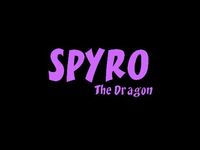 Ad blocker interference detected!
Wikia is a free-to-use site that makes money from advertising. We have a modified experience for viewers using ad blockers

Wikia is not accessible if you've made further modifications. Remove the custom ad blocker rule(s) and the page will load as expected.