Trigger Happy
Talk

10
1,529pages on
this wiki
"No Gold, No Glory!"
—Trigger Happy's official catchphrase
Trigger Happy is a gremlin gunslinger who is one of the playable Skylanders in the Skylanders series, first appearing in Skylanders: Spyro's Adventure. He has a Legendary counterpart called Legendary Trigger Happy.
Background
Personality
Trigger Happy's solution to every problem is being, well, trigger happy. He is a crazy gunslinger who will take down any evil doer.
Biography
Trigger Happy is more than his name -- it's his solution to every problem. Nobody knows from where he came. He just showed up one day in a small village, saving it from a group of terrorizing bandits by blasting gold coins everywhere with his custom-crafted shooters. Similar tales were soon heard from other villages, and his legend quickly grew. Now everyone in all of Skylands knows of the crazy goldslinger that will take down any bad guy... usually without bothering to aim.
Story
WARNING: This section contains spoilers below!
(Skip section)
Trigger Happy made a cameo as one of the Skylanders who attended Gill Grunt's concert in celebration of their latest victory over the forces of darkness. Flynn's hot air balloon soon crashlanded in Eon's garden, as the Skylanders, Trigger Happy included, ran out of harm's way.
Skylanders: Spyro's Adventure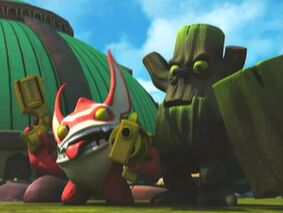 Trigger Happy and
Spyro
were present with their leader,
Master Eon
, when
Kaos
and
The Darkness
approached. When Kaos sent his minions to destroy the
Core of Light
, Trigger Happy didn't appear in battle with the other Skylanders until he arrived and helped out
Stump Smash
fight a large number of Kaos' minions when the tree creature was outnumbered, taking out a few enemies with several shots of his dual guns. They both worked together in defeating the horde of enemies, including two
Goliath Drows
individually.
Just as the Skylanders were winning the battle, Kaos unleashes his Hydra and it successfully destroys the Core of Light. Trigger Happy, along with the other Skylanders, were banished from Skylands and were sent to Earth where they were turned into toys, waiting for the new Portal Master to find them.
After Kaos was defeated, Spyro, Gill Grunt, and Trigger Happy were present at the Ruins with Hugo, Flynn, Cali, and Master Eon as Kaos made idle threats in his temporary prison. The three Skylanders all shared a knowing glance to one another, as Kaos rambled on vowing that he'll keep returning until Skylands was his if he was to be banished to the Outlands again. Instead, Kaos was banished to Earth where he was turned into a toy, and shortly after his departure, Spyro, Gill Grunt, and Trigger Happy celebrated their victory together.
Relationships
Spyro the Dragon
Trigger Happy is best friends with Spyro. As a result of being the few of the first modern Skylanders, Trigger Happy and Spyro have been working together a little longer than some of the other Skylanders, forming a bit more of a friendship based on longevity and shared experiences. In addition to their friendship, Spyro calls Trigger Happy by the nickname, 'Trigg' (only in media and commercials).
Gill Grunt
Other than Spyro, Trigger Happy is also best friends with Gill Grunt. The gremblin has also been working together with the Gill Grunt alongside Spyro since they were some of the first modern Skylanders.
Abilities
Trigger Happy can fire a barrage of gold coins at his enemies from his dual guns. He can also hurl a pot of gold, fire away at his opponents using a machine gun filled with coins, and release two yellow beams from his guns.
Trigger Happy is a frail, rapid-fire, ranged damage character. His Golden Pistols and Golden Machine Gun allow him to dispense rapid damage at long-range. His gold-hurling abilities provide a medium-range area of effect damage spell to hold enemies at bay. For his upgrade paths, he can chose to improve the power of his pistols or his gold-hurling bombing ability.
Stats
These are the starting and maximum statistics for this Skylander in the console version of the games.

Health: 200 (max. 400)
Speed: 50 (max. 98)
Armor: 30 (max. 60)
Critical Hit: 50 (max. 100)
Elemental Power: 25 (max. 100)
Warning: These stats are not used in any of the Skylander games. They are only listed for completeness reasons.

Strength: 40
Agility: 60
Defense: 20
Luck: 100
Powers and Upgrades
Basic Abilities
These abilities are available from the start of the game.
Soul Gem Ability
Requires Soul Gem from:
Cadaverous Crypt

Wow Pow Power

Golden Pistols
Lob Golden Safe
Infinite Ammo
wowpowname

Primary Ability
Shoot rapidfire coins out of both golden guns.

Secondary Ability
Lob explosive golden safes at Trigger Happy's enemies.

Price: 4000
Golden Machine Gun has unlimited ammo.


Price: 5000
wowpowdesc

Basic Upgrades
Skylanders can buy new abilities from Persephone.
Golden Super Charge
Pot O' Gold
Golden Mega Charge
Golden Machine Gun

Price: 500
Charge up the Golden Gun, then release to fire a bullet that does damage.

Price: 700
Throw a Pot of Gold, which does increased damage.

Price: 900
Charge up Trigger Happy's Golden Gun longer to do even more damage.

Price: 1200
Activate a machine gun and swivel its aim with the control stick.
Golden Frenzy
This upgrade path lets Trigger Happy further develop his Golden Gun attacks.
Happiness Is A Golden Gun
Bouncing Bullets
Golden Yamato Blast

Price: 1700
Golden Gun does increased damage.

Price: 2200
Golden Gun's bullets bounce off walls.

Price: 3000
Charge up the Golden Gun even longer to do maximum damage.
Golden Money Bangs
This upgrade path lets Trigger Happy further develop his throwing skills.
Just Throwing Money Away
Coinsplosion
Heads or Tails

Price: 1700
Pot O' Gold attack has longer range.

Price: 2200
Pot O' Gold attack explodes in a shower of damaging coins.

Price: 3000
Toss a coin that does extra damage ... and if it lands on heads, it does even more damage.
Skylanders gain new abilities automatically based on their level.

Starting Powers
Cha-Ching! (Primary Attack): Repeatedly shoot Trigger Happy's coin guns at enemies.
Money Mingun (Secondary Attack): Fire Trigger Happy's minigun at enemies. The minigun becomes less accurate the longer it is fired.
Upgrades
Coin Flip (requires level: 3): Shoot coins at enemies. When they hit enemies, the coins will flip up into the air and damage enemies again when they land.
Rising Interest (requires level: 6): double jump shoots coins at enemies. the money minigun also maintains its accuracy longer.
Stored Value (requires level: 9): Hold (y) and release to shoot two stunning coins.Hold (y) longer to shoot a barrage of six coins.Trigger Happy is invulnerable while shooting this barrage.
Minigame Abilities
Skylanders get special abilities in minigames based on their element.
| | | | | |
| --- | --- | --- | --- | --- |
| Sky Defense | | Castle Assault | | Ground Defense |
| Make the turret shoot like a machine gun. | | Launch a projectile that explodes like a bomb. | | Create a time bomb and leave it on the ground. |
Character Trailers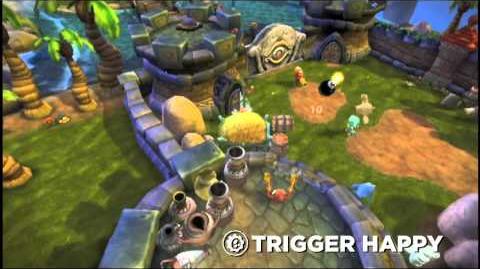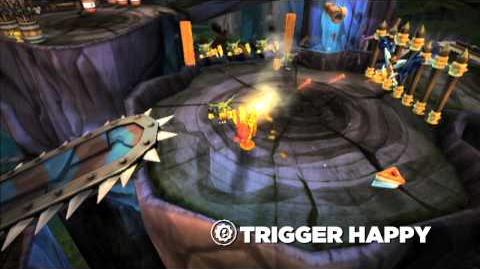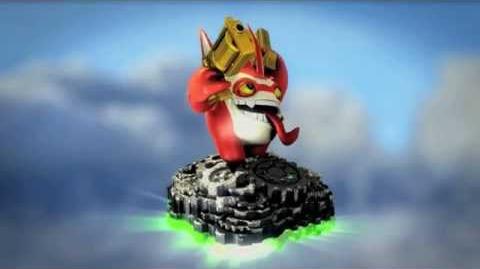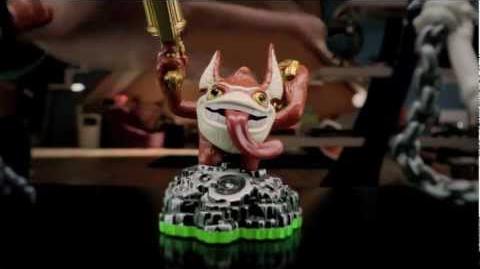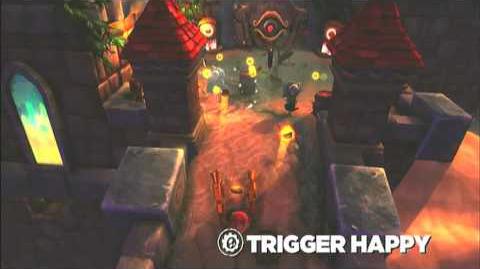 Quotes
Battle Cries
"Mine mine mine!"
"Pow pow pow!"
Commercial Quotes
"Here comes Trigger Happy! In the face!" - from The Beginning Trailer.
"He's so hot right now." - (from Eruptor TV Commercial)
"My name is Trigger Happy! No Gold, No Glory!" from Trigger Happy's TV Spot
"Here they come!" - from the start of the Boomtime commercial.
"This is not me at my best." - from The Beginning Trailer.
"Holy guacamole!" -from the Skylanders: Giants debut trailer.
"Giants rule!" -from the Giants debut trailer.
Spee too!" *Silent moment* "...Or you know, I just wait here." - From 'My Turn' TV commercial.
Gallery
See Also
Trivia
Trigger Happy's guns bears a slight resemblance to Nerf Mavericks, a toy made by the toy brand of NERF.
On Skylanders offical Facebook page, under a picture of Trigger Happy, it has been said in the comments that I-Wei Huang was the person that came up with Trigger Happy's design.
Trigger Happy talks normally only in the commercial advertisements for Skylanders, and speaks with a Russian accent.
He shares a similar character model to Boom Fiends.
Locations
Hubs
Ruins (Console) - Sanctuary (3DS)
Console Chapters
Shattered Island - Perilous Pastures - Sky Schooner Docks - Stormy Stronghold - Oilspill Island - Dark Water Cove - Leviathan Lagoon - Crystal Eye Castle - Stonetown - Treetop Terrace - Falling Forest - Troll Warehouse - Goo Factory - Battlefield - Crawling Catacombs - Cadaverous Crypt - Creepy Citadel - Molekin Mine - Lava Lakes Railway - Quicksilver Vault - Arkeyan Armory - Lair of Kaos
Console Battle Arenas
Cyclops Square - Mushroom Grove - Aqueduct - Troll Factory


Pirate Grotto -

The Necropolis -

Icicle Isle -

Cube Dungeon -

Volcanic Vault
3DS Realms
Towersight Fields - The Proving Grounds - Flooded Viaducts - Radiant Fountain - Dreamgardens - Ashburrow - Magma Bank Island - Cinderstream Pass - Luminous Quarry - Lava Flow Grotto - Snowblind Hills - Frostsedge - Glacial Slopes - Icelight - Aurora Peak - Leaflook Village - Breakmarsh - Daystar Temple - Treetop Circle - Waterwalk Way - Sunblight Wood - Thundersquall - Whipwind Mountains - Stormseye - Galecrack Castle - Dark Mirror
Adventure Pack Chapters


Pirate Seas -

Darklight Crypt -

Empire of Ice -

Dragon's Peak
Locations
Hubs
Cap'n Flynn's Ship
Console Chapters
Time of the Giants - Junkyard Isles - Rumbletown - Cutthroat Carnival - Glacier Gully - Secret Vault of Secrets - Wilikin Village
- Troll Home Security - Kaos' Kastle - Aerial Attack! -Drill-X's Big Rig - Molekin Mountain - The Oracle - Autogyro Adventure
Lost City of Arkus - Bringing Order to Kaos!
Console Battle Arenas
Cyclops Square - Mushroom Grove - Aqueduct - Troll Factory
Slime Pipe
3DS Realms
Pirate Bay - Head Hunting - Lost and Found - Through the Ruins - Tiki Rumble - Sand Trap - The Tar Pits - The Windy Dunes -
A Walk in the Park - Westernland - Tunnel of Love - Murky Waters - Stuck in the Mud - Overgrowth - Marsh Madness
- Cannon Fodder - Ships Ahoy - Phantom Tide Rising - Saving Skylands
Adventure Pack Chapters


Pirate Seas -

Darklight Crypt -

Empire of Ice -

Dragon's Peak