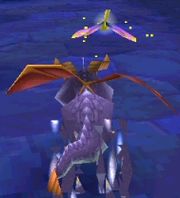 A Supercharge was a part of Spyro's special moves in the original Spyro series. It is basically an improved version of the basic charge attack, only it enables Spyro to run faster and be able to jump higher if he runs off certain platforms.
In both Spyro the Dragon and Spyro: Year of the Dragon, Spyro performs the Supercharge by charging across special ramps that show glowing arrows. In Spyro 2: Ripto's Rage!, Spyro performs the Supercharge by running through a Supercharge Power Gate. In Spyro: A Hero's Tail, Spyro glows yellow when he steps into the Supercharge gadget instead of running his legs in circular motion while charging fast.
Supercharge can be needed to:
Defeat large enemies wearing armor
Break open locked chests or metal chests
Break open certain doors
Catch up with thieves
Travel long distances when going off the end of a ramp
Defeat metalback spiders
Trivia
On the back of the Spyro 2: Ripto's Rage! Playstation Greatest Hits package case, Spyro is seen performing the Supercharge in Scorch. However, there is no point in the stage where Spyro is able to obtain the Supercharge power up.
In the Classic Spyro trilogy developed by Insomniac Games, the faster you charge, the different color the smoke behind Spyro changes from normal to yellow, orange, then red.
In Spyro the Dragon, there is a realm called Tree Tops which is basically built for supercharging.
In the Classic Spyro trilogy, Spyro's supercharging model is just as the first installment.
In early demos for the first Spyro game, the Supercharge is referred to as the "Superdash."
Ad blocker interference detected!
Wikia is a free-to-use site that makes money from advertising. We have a modified experience for viewers using ad blockers

Wikia is not accessible if you've made further modifications. Remove the custom ad blocker rule(s) and the page will load as expected.