Sheep
Talk

1
1,529pages on
this wiki
"No sheep were harmed in the making of this game. A few Gnorcs, but no sheep."
—Spyro the Dragon credits
Sheep are the one of the most popular and famous of the fodder animals as they have appeared throughout the Spyro series, and is also the subject of the TV advert for the first Spyro game. They later made a reappearance in Skylanders series.
Original series
Edit
The sheep are the local animals in the realms of the Dragon Kingdom, Avalar, and the Forgotten Realms. They are also enemies in the form of Sheep UFOs.
One evil sheep in Spyro the Dragon, Toasty, serves as the boss of the Artisans realm, having allied with Gnasty Gnorc.
Skylanders series
Edit
In the spin-off game of Skylanders, the sheep are one of the indigenous fauna of Skylands. Most of the sheep population graze in the Perilous Pastures but they tag along to the Ruins in one of the cutscenes.
According to a note from Hugo, the sheep are among 'the most feared creatures in Skylands' and that many Mabu 'find their belongings missing after falling asleep while counting sheep'. Another scroll mentions that Mabu use small tornados to get rid of sheep. However, it is most likely a propaganda by Hugo himself, as he greatly despises sheep.
Sheep were unwilling victims of some invisible trolls who caused mischief in the Mabu Market, making the Skylanders believe that the sheep were flying by themselves when they were really being carried by the trolls.
Despite harmlessly grazing the Ruins, the sheep play a small role as an obstacle. When Arbo needs to gather apples for special seeds, the sheep will try and eat the apples. The Skylander will then have to gather the apples before the sheep eats them, in order for Arbo to be able to find the location of the Eternal Life Source.
In the 3DS version of Spyro's Adventure, sheep are the local animals in the Radiant Isles. In Daystar Temple, whenever you break the sacred Sheep statues, your Skylander will temporarily turn into a Sheep. After a while they change back.
Sheep reappear in Skylanders: Giants in various levels. One of the missions which can be accessed by getting into the Dread-Yacht's turret after completing a certain level is a "Sheep Invasion," in which the player must shoot down balloons carrying sheep, implying that they may be evil after all.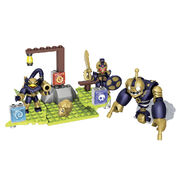 A MEGABLOKS set containing Legendary Skylanders also contained a Legendary sheep as a joke.
References
Edit