Scorch
Talk

0
1,476pages on
this wiki
Scorch (ホットハタビアン in Japanese) is a realm that appeared in Ripto's Rage, set in a Middle Eastern style desert palace. Two children secret agents named Handel and Greta have lost contact with each other, and it is Spyro's job to reunite the siblings with one another so they can complete their "super secret mission".
The two children later appeared in Spyro: Year of the Dragon, this time at the Fireworks Factory.
Cutscenes
Opening Scene
The scene opens, showing Handel and Greta, trying to infiltrate the castle. However, a lollipop is shown, and Handel, not being able to stop himself, glides to the lollipop. Greta sees this, and flees as the guards arrive. Handel is still biting on the lollipop, as a guard laughs at him.
Closing Scene
The scene opens showing Handel and Greta surrounded in the tower by the guards. They guards approach them, their weapons drawn. Handel and Greta slowly touch each other's hand. They then look back at the camera, with their eyes red, and vicious. The guards back up, fearfully. Orbs of light are then shown in Handel and Greta's hands. They then throw them at two of the guards, as they are blown out of the tower.
Intro and Extro Video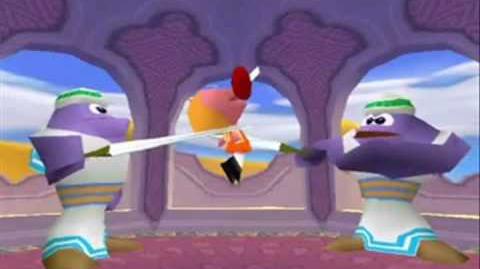 Guide
Orbs
If you find some steps to the left after you rise the first flag and open the door, and go up them you'll notice palm trees and some have monkeys in them. When you move the camera around you'll see Hunter holding a barrel when you walk up to him he'll say that the monkeys have escaped from the Avalar Zoo. Follow Hunter and charge the tree he stops by and a monkey will fall into the barrel. (But do it fast before a monkey throws a coconut at Hunter). After you get all the monkeys Hunter will give you an orb, claiming that one of the monkeys had it. If you talk to him a second time he will say "Were those monkeys or apes?"
If you go to the top of the castle after you got Greta back in, go up some steps and at the top will be Handel saying they need the flags to prove their mission was successful but Bombo the Flagkeeper kept stealing the flags. You need to get the superflame power-up active first.
Bombo will be atop of the flagpole that lowered the bridge. Aim and then shoot at him to get him down, follow Bombo back to Handel and he'll drop the flag. Do this repeatedly until you have every flag. After all 3 flags are back Handel will give you an orb he found in the sand. (Difficulty: ★★★★★)
Characters
Allies
Enemies
Gallery
Videos