Peace Keepers (コンバットガーデン ホーム Combat Garden Home in Japanese) is the second Homeworld in Spyro the Dragon. The realm is a desert canyon devoid of water. The only moisture is in the tar pits, which will damage Spyro if he steps in them.
The realm has been overrun by Foot Soldiers and Cannon Patrol Gnorcs, who use it as their military camp and target practice area. Their orange and blue tents are arranged in camps around the realm. Spyro can use the cannon throughout the realm after defeating the Cannon Patrol Gnorcs in the vicinity. With a cannon, Spyro can destroy metal boxes and clear the path to the Night Flight portal. The Fodder in this world are small brown rabbits. Spyro needs to free ten dragons to access this world.
Description
The Peace Keepers homeworld and realms are quite possibly the harshest worlds to live in. The homeworld itself is a desert with rocky terrain and cliff walls. Tar pits fill the land as well. The only sort of water the Peace Keepers get here are bubbling underground hot springs, which they use to collect condensation.
Various stone structures are built up from the cracked ground, though most of them are simply archways and lookout towers. The Peace Keepers make a notion to not live in their homeworld, and instead live their militaristic lives in the seclusion of their realms.
Portals
Each homeworld has specially designed portals. The portals in Peace Keepers are built like fortress battlements.
Residents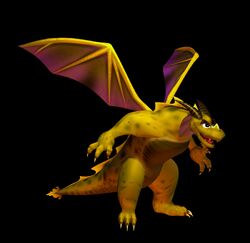 Dragons found at Peace Keepers are warriors above all else. They have an outstanding army to defend the Dragon Realms with, and always maintain discipline and courage. They are also the strongest of all the Dragon families, and know most about battling their enemies.
The Peace Keepers take the "attack first, ask questions later" routine, and tend to have short tempers and one-sided views. Everything about their life, from the day they were born to the day they die, is about being the best soldier they can be. Living in the desert sand dunes, tar pits, and ice caves, they are always on the lookout for any creatures breaking the peace.
Titan is the leader of the Peace Keepers dragons. He is the first dragon to be freed when Spyro enters the Peacekeepers homeworld. Titan welcomes his arrival, and gives Spyro the objective to recover the treasure that was turned into Gnorcs.
Statistics
Realms
Enemies
Dragons
Walkthrough
Trivia
Ad blocker interference detected!
Wikia is a free-to-use site that makes money from advertising. We have a modified experience for viewers using ad blockers

Wikia is not accessible if you've made further modifications. Remove the custom ad blocker rule(s) and the page will load as expected.