Merchandise are products that are composed of trading cards, plushies, cups, lunch bags, and much more based on the Spyro series.
The Legend of Spyro
Wendy's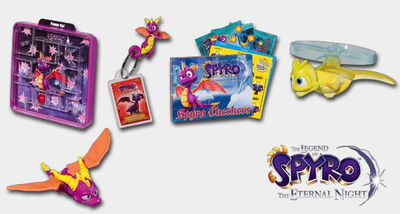 From October 8, 2007,
Wendy's
restaurants in the US started a four week promotion to help promote
The Legend of Spyro: The Eternal Night
. The set consisted of a
Spyro
checkers game, a Spyro keychain (equipped with a smaller
Cynder
keychain), wing-flapping Spyro toy, 'flying'
Sparx
and a Spyro maze game.
The meal bags were also heavily decorated with Spyro.
Brazier & Co
A company known as Brazier & Co once made a prototype for a Wii remote holder where Spyro is holding the remote in his mouth. The company also made a Crash Bandicoot model, though neither were ever released to the public.
N-Revolution
Videogame magazine N-Revolution released a pencil case featuring Spyro and Cynder to help promote The Legend of Spyro: Dawn of the Dragon. It came with a ruler which also included Sparx on the design, along with an eraser featuring the logo and a plain purple pencil.
First4Figures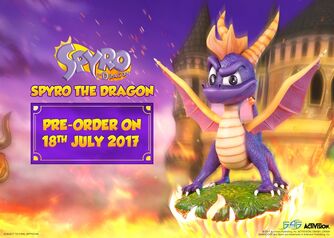 On April 21, 2017,
First4Figures
announced that they will be releasing collectible statues based on the
Spyro the Dragon
franchise. The first statue is that of classic Spyro, while staff members of First4Figures have posted polls for fans to vote for potential statues of other characters, including those from
The Legend of Spyro
.
Numskulls
After the reveal of the Spyro Reignited Trilogy, Numskulls announced that they are producing an officially licensed Spyro the Dragon merchandise line.[1]
References