Home
Talk

20
1,529pages on
this wiki
This Month's Featured Article
This month's featured article is Sorcerer.
News
January 2, 2013 Happy new year, Spyro Wikia! Here's to another year of good editing on the Spyro franchise.
December 12, 2012 The European PSN Store has added the original three Spyo games, Spyro the Dragon, Spyro 2: Ripto's Rage!, and Spyro: Year of the Dragon for £3.99 (€4.99) each or as a collection for £7.99 (€9.99).
December 7, 2012 Toys for Bob wishes us a Merry Christmas through a Skylanders: Giants video: http://www.youtube.com/watch?v=BQLOfY3Ua78
Novemer 8, 2012: The so-called 'Spyro 2013' rumor is fake, created by a user who made the Otipro Corporation fan page and twitter account from where the fake Spyro 2013 picture was first posted (which was later taken down).
How would you deal with Gnorcs in Spyro the Dragon?
You can vote at previous polls here.
You Can Help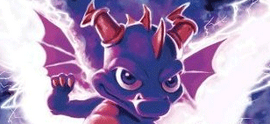 We have pages ready for your help!
Troll Grenadiers, Lava Kings, Mana, Beetle Burrows, Grumpy Grasshopper, Glide, Moths, Pygmy Cannibals, Dragon Kata, Dragon Dojo, Conduits, Rhynocs
Nataloids, Balloonist, Flame, Cho-Lei, Thieves Den, Spider Tanks, Disciples, Advisor, Naga, Fire Elementals, Dragon Kata, Eels, Crystal Brutes, Drow
Frozen Fiends, Ice Ogres, Kangaroo Thieves, Gnorc Archers, Steel Traps, Fire Imps, Rock Monsters, Critters, Electric King, Crystal Orb Crabs, Eskimoles, Fire Imps, Phoenixes, Pygmy Cannibals, Fire Elementals
Helping out
To write a new article, just enter the article title in the box below.
Not sure where to start?
Adding content
Talk and more...
Check out the Community Portal to see what the community is working on, to give feedback or just to say hi.