This Month's Featured Article
This month's featured article is Beast Makers.
You Can Help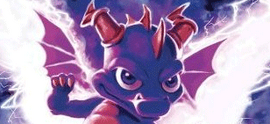 We have pages ready for your help!
Troll Grenadiers, Lava Kings, Mana, Beetle Burrows, Grumpy Grasshopper, Glide, Moths, Pygmy Cannibals, Dragon Kata, Dragon Dojo, Conduits, Rhynocs
Nataloids, Balloonists, Flame, Cho-Lei, Thieves Den, Spider Tanks, Disciples, Advisor, Naga, Fire Elementals, Dragon Kata, Eels, Crystal Brutes, Drow
Frozen Fiends, Ice Ogres, Kangaroo Thieves, Gnorc Archers, Steel Traps, Fire Imps, Rock Monsters, Critters, Electric King, Crystal Orb Crabs, Eskimoles, Fire Imps, Phoenixes, Pygmy Cannibals, Fire Elementals
Helping out
To write a new article, just enter the article title in the box below.
Not sure where to start?
Adding content
Talk and more...
Check out the Community Portal to see what the community is working on, to give feedback or just to say hi.
Quote of the Moment
"Yeah, how 'bout 22475? That's my birthday."
First4Figures Spyro Notice
Classic Spyro and Legend Spyro are set to have First4Figures collectible statues. Want a First4Figures collectible statue of Skylanders Spyro so he wouldn't feel left out? Facebook users can now vote for one by joining the First4Figures Official Collector's Club and voting yes on the poll. Only the yes votes matter, and the admins are paying no attention to the no votes. The poll never closes either! 384 yes votes to go before we reach 700!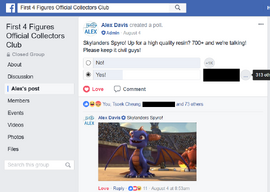 Ad blocker interference detected!
Wikia is a free-to-use site that makes money from advertising. We have a modified experience for viewers using ad blockers

Wikia is not accessible if you've made further modifications. Remove the custom ad blocker rule(s) and the page will load as expected.