Magic Crafters (マジック ガーデン ホーム: Magic Garden Home) is the third homeworld in Spyro the Dragon and Spyro Reignited Trilogy remaster of the first game. This land comes across as an extravagantly royal place, with marble-like walls and floors in the caves. The walls are also covered in elaborate designs and the caves seem to be lit almost magically. Throughout the homeworld, there are small ponds where enemies are sometimes seen running around.
Magic is very obvious in this land. There are druids in this world who have control over the movement of platforms, walls and land among many others. This is also the first land in which Spyro finds a Supercharge. You must collect at least 1,200 gems to access this world.
Description
The home of the most magically-inclined dragon species is a network of self-constructed plains and meadows connected by tall mountains tips and covered in frost and ice. The Magic Crafters world is littered with icy steps, frosted peaks, supercharge ramps, moving platforms, and alpine trees of all sizes. Pools of crystal-clear water dot each area, and the caves built into the mountains are smooth and decorated with all sorts of pretty patterns. Gems can be seen here or there, but the Magic Crafter dragons never see too fit to flaunt their wealth. The abyss below is a misty, never-ending fall that would spell death to any dragon, but no fear! The fairies here don't mind catching you and lifting you to safety.
Portals
Each homeworld has specially designed portals. The portals in Magic Crafters are made from the mountain's stone, and are short and wide. The top portion comes to a point at the top, with a jewel located right below it.
Residents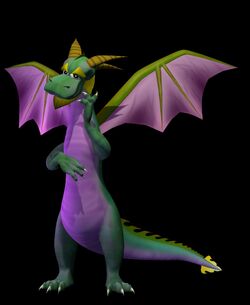 The dragons who live in this world are known as the Magic Crafters. They spend their time making magic artifacts used by all the Dragons throughout the rest of the worlds. They are shy around other creatures and like to be alone. They can very happy in their remote mountaintops, ice clipps and caves, studying their craft in peace.[1]
A notable feature of the Magic Crafters is that most of them speak in an accent that trills the Rs in the words they speak with. Visually setting them aside from the other dragon families, Magic Crafters have four horns on their heads, and their eyes are fully one color with no visible white or pupils. The leader of the Magic Crafter dragons is Cosmos, as he is the first dragon to be freed when Spyro enters the homeworld and welcomes his arrival, as well as giving him the main objectives.
Statistics
Realms
Enemies
Dragons
Walkthrough
Gallery
Trivia
References
↑

Spyro the Dragon Instruction Manual page 17