Ice
Talk

1
1,529pages on
this wiki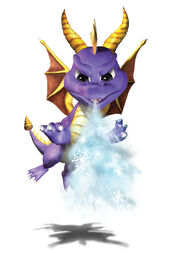 Ice
is one of the elements that
Spyro
masters. It is first obtained in
Spyro 2: Ripto's Rage!
while in
Cloud Temples
as a power-up after defeating 21 enemies, where it is needed to complete a challenge. It is also granted temporarily by an
Ice Fairy
while in
Frozen Altars
, in
Spyro: Year of the Dragon
. It later became one of Spyro's main breath attacks in
Spyro: Enter the Dragonfly
, and appeared in
Spyro: Season of Flame
and
Spyro: A Hero's Tail
.
Spyro: Enter the Dragonfly
Edit
In this game, Spyro's Ice Breath only freezes enemies. It leaves them vulnerable for a few seconds. After freezing them, he must charge or use another breath to finish them off. In the Dragon Realms, it is used to open a gate to collect the rest of the gems, save the rest of the baby dragonflies there, and it allows Spyro to gain access to three new levels to explore.
Main article: Ice (The Legend of Spyro)
Ice is one of the four main elements Spyro learns and utilizes throughout The Legend of Spyro series. It is also the third element he learned during his first adventure.
Slam Bam and Chill are Skylanders of the Water element, but they have to power to use Ice to attack their foes instead of Water-based attacks.
Locations
Hubs
Ruins (Console) - Sanctuary (3DS)
Console Chapters
Shattered Island - Perilous Pastures - Sky Schooner Docks - Stormy Stronghold - Oilspill Island - Dark Water Cove - Leviathan Lagoon - Crystal Eye Castle - Stonetown - Treetop Terrace - Falling Forest - Troll Warehouse - Goo Factory - Battlefield - Crawling Catacombs - Cadaverous Crypt - Creepy Citadel - Molekin Mine - Lava Lakes Railway - Quicksilver Vault - Arkeyan Armory - Lair of Kaos
Console Battle Arenas
Cyclops Square - Mushroom Grove - Aqueduct - Troll Factory


Pirate Grotto -

The Necropolis -

Icicle Isle -

Cube Dungeon -

Volcanic Vault
3DS Realms
Towersight Fields - The Proving Grounds - Flooded Viaducts - Radiant Fountain - Dreamgardens - Ashburrow - Magma Bank Island - Cinderstream Pass - Luminous Quarry - Lava Flow Grotto - Snowblind Hills - Frostsedge - Glacial Slopes - Icelight - Aurora Peak - Leaflook Village - Breakmarsh - Daystar Temple - Treetop Circle - Waterwalk Way - Sunblight Wood - Thundersquall - Whipwind Mountains - Stormseye - Galecrack Castle - Dark Mirror
Adventure Pack Chapters


Pirate Seas -

Darklight Crypt -

Empire of Ice -

Dragon's Peak