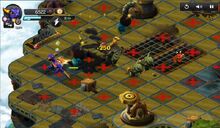 Ground Defense is a mini-game that can be played on Skylanders: Universe. It involves protecting your treasure from a bunch of raiding Sky Pirates using your Skylander. Unlike the Spyro's Adventure, you only have one attack plus specials (the number of specials you can use is based on how many Skylanders you've registered), which vary by element.
Ad blocker interference detected!
Wikia is a free-to-use site that makes money from advertising. We have a modified experience for viewers using ad blockers

Wikia is not accessible if you've made further modifications. Remove the custom ad blocker rule(s) and the page will load as expected.