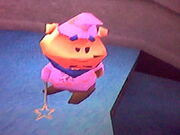 The
Gnome Wizards
are the residents of the
Crystal Islands
. They perform magic with their magic wands. They accidently turned all the living things into crystals. They are topaz, with a purple wizard hat, purple wizard suit and brown shoes.
Characters
The Marvelous Magnifico
The Great Zamboni
The Fantastic Frederico
The Amazing Randini
The Magnificent Marvello
The Astounding Arturo
Trivia
The Gnomes have Spanish magician names.
Ad blocker interference detected!
Wikia is a free-to-use site that makes money from advertising. We have a modified experience for viewers using ad blockers

Wikia is not accessible if you've made further modifications. Remove the custom ad blocker rule(s) and the page will load as expected.