Ghost Roaster
Talk

0
1,533pages on
this wiki
"No Chain, No Gain!"
—Ghost Roaster's official catchphrase
Ghost Roaster is a skeletal ghoul who is one of the playable Skylanders in the Skylanders series, first appearing in Skylanders: Spyro's Adventure. He is available exclusively in the Darklight Crypt Adventure Pack.
Background
Biography
There was a time when Ghost Roaster was neither a ghost nor a roaster. Instead he was a chef living in a village high in the mountains. One day, while clipping wool from a sheep to use in a recipe, he accidentally fell into the Valley of the Undead and transformed into a ghost-eating ghoul! After eating an entire spectral village, its Ethereal Ruler chained Ghost Roaster to a spiked ball as punishment. Its rattle can be heard as he wanders the night, warning nearby spirits. When Master Eon eventually heard of his predicament, he figured even a ghost eater could be useful. So he made Ghost Roaster a Skylander... after he promised to eat only evil ghosts.
Abilities
Being a ghoul, Ghost Roaster can turn intangible to avoid enemy attacks, but it drains his health in the process. He can also turn into a flaming and speeding skull, and strike his enemies using the spiked ball or spike of his chain.
Stats
These are the starting and maximum statistics for this Skylander in the console version of the games.

Health: 280 (max. 560)
Speed: 43 (max. 91)
Armor: 24 (max. 54)
Critical Hit: 20 (max. 70)
Elemental Power: 25 (max. 100)
Warning: These stats are not used in any of the Skylander games. They are only listed for completeness reasons.

Strength: 60
Agility: 40
Defense: 85
Luck: 40
Powers and Upgrades
Basic Abilities
These abilities are available from the start of the game.
Soul Gem Ability
Requires Soul Gem from:
Darklight Crypt

Wow Pow Power

Chain Whip
Skull Charge
Lingering Curse
wowpowname

Primary Ability
Swing your chain tail at enemies.

Secondary Ability
Transform into a ghostly head that barrels through enemies.

Price: 4000
Ghosts have a bigger attack range and knocks enemies away.


Price: 5000
wowpowdesc

Basic Upgrades
Skylanders can buy new abilities from Persephone.
Pain Chain
Metalhead
Ectoplasm Mode
Haunt

Price: 500
Chain Whip attacks do increased damage.

Price: 700
The Skull Charge attacks last longer.

Price: 900
Enter Ectoplasm Mode and be immune to all attacks, but lose health over time.

Price: 1200
Defeating an enemy with the Chain Whip turns them into a ghost that attacks other enemies.
Fear Eater
This upgrade path lets you further develop your Ectoplasmic abilties.
Phase Shift Burst
Ecto-Friendly
Nightmare Touch

Price: 1700
All nearby enemies take damage when you enter Ectoplasm Mode.

Price: 2200
While in Ectoplasm Mode, you move faster and lose less health over time.

Price: 3000
Touching a ghost while in Ectoplasm Mode creates a powerful explosion.
Skull Master
This upgrade path lets you further develop your Skull Dash attack.
Fright Bite
Unfinished Business
Life Transfer

Price: 1700
Skull Charge does increased damage.

Price: 2200
Defeating an enemy with Skull Charge creates a ghost.

Price: 3000
Devouring a ghost while doing a Skull Charge heals you.
Skylanders gain new abilities automatically based on their level.

Starting Powers
Tail Flail (Primary Attack): Whip enemies with Ghost Roaster's ball and chain.
Ghostly Gathering (Secondary Attack): Summon two ghosts. Send a ghost at the nearest enemies and the enemy will be haunted and take damage for a few seconds.
Upgrades
Skull Sprint (requires level: 2): Press (X) to summon ghosts, then Sprint (A) to consume a ghost and turn Ghost Roaster into a giant skull. When in skull form, Ghost Roaster will damage nearby enemies.
Unknown (requires level: 5): (Add description here)
Unknown (requires level: 8): (Add description here.)
Minigame Abilities
Skylanders get special abilities in minigames based on their element.
| | | | | |
| --- | --- | --- | --- | --- |
| Sky Defense | | Castle Assault | | Ground Defense |
| Curse enemies in range and make them more vulnerable to attacks for a certain time. | | Launch a projectile that accelerates to a high velocity instantly. | | Curse enemies in range and inflict damage. |
Character Trailers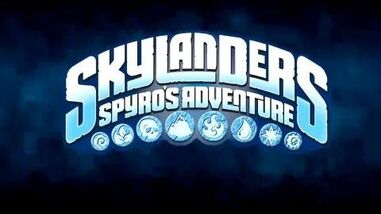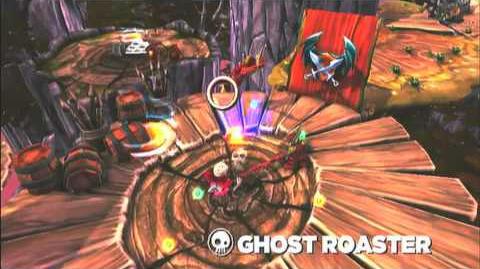 Gallery
Trivia
His catchphrase 'No Chain, No Gain' is a joke on the saying 'No Pain, No Gain'.
His name may have been a reference to Marvel's Ghost Rider.
Ghost Roaster looks like a cross between a ghost and a vampire.
In the 3DS version of Skylanders, Ghost Roaster has the ball and chain attached to the end of his tail by a shackle, while in the console versions, the ball and chain was chained into the tail-like end of Ghost Roaster.
Ghost Roaster's attire was originally red.
He is the only Skylander that can die in the Ruins due to his ectoplasm mode.
Ghost Roaster shares similarities to the Mortal Kombat character, Scorpion, as it gives him a kunai-like weapon at the end of his chain in subsitution to the spiked mace as well as the ability to make ghosts when something is killed with the chain whip.
When moving in-game, Ghost Roaster's chain can be heard scraping on the ground.
He, Camo and Lightning Rod don't have upgrade paths for their primary attacks.
Locations
Hubs
Ruins (Console) - Sanctuary (3DS)
Console Chapters
Shattered Island - Perilous Pastures - Sky Schooner Docks - Stormy Stronghold - Oilspill Island - Dark Water Cove - Leviathan Lagoon - Crystal Eye Castle - Stonetown - Treetop Terrace - Falling Forest - Troll Warehouse - Goo Factory - Battlefield - Crawling Catacombs - Cadaverous Crypt - Creepy Citadel - Molekin Mine - Lava Lakes Railway - Quicksilver Vault - Arkeyan Armory - Lair of Kaos
Console Battle Arenas
Cyclops Square - Mushroom Grove - Aqueduct - Troll Factory


Pirate Grotto -

The Necropolis -

Icicle Isle -

Cube Dungeon -

Volcanic Vault
3DS Realms
Towersight Fields - The Proving Grounds - Flooded Viaducts - Radiant Fountain - Dreamgardens - Ashburrow - Magma Bank Island - Cinderstream Pass - Luminous Quarry - Lava Flow Grotto - Snowblind Hills - Frostsedge - Glacial Slopes - Icelight - Aurora Peak - Leaflook Village - Breakmarsh - Daystar Temple - Treetop Circle - Waterwalk Way - Sunblight Wood - Thundersquall - Whipwind Mountains - Stormseye - Galecrack Castle - Dark Mirror
Adventure Pack Chapters


Pirate Seas -

Darklight Crypt -

Empire of Ice -

Dragon's Peak
Locations
Hubs
Cap'n Flynn's Ship
Console Chapters
Time of the Giants - Junkyard Isles - Rumbletown - Cutthroat Carnival - Glacier Gully - Secret Vault of Secrets - Wilikin Village
- Troll Home Security - Kaos' Kastle - Aerial Attack! -Drill-X's Big Rig - Molekin Mountain - The Oracle - Autogyro Adventure
Lost City of Arkus - Bringing Order to Kaos!
Console Battle Arenas
Cyclops Square - Mushroom Grove - Aqueduct - Troll Factory
Slime Pipe
3DS Realms
Pirate Bay - Head Hunting - Lost and Found - Through the Ruins - Tiki Rumble - Sand Trap - The Tar Pits - The Windy Dunes -
A Walk in the Park - Westernland - Tunnel of Love - Murky Waters - Stuck in the Mud - Overgrowth - Marsh Madness
- Cannon Fodder - Ships Ahoy - Phantom Tide Rising - Saving Skylands
Adventure Pack Chapters


Pirate Seas -

Darklight Crypt -

Empire of Ice -

Dragon's Peak