Fracture Hills
Talk

0
1,529pages on
this wiki
Fracture Hills (ミュージカヒルズ; Musica Hills) is a dark, spooky place in Spyro 2: Ripto's Rage! where some trees and bushes will come alive and attack Spyro. It is home to fauns, and because of this, it is thought that Elora comes from Fracture Hills, although it is not confirmed in the game. Prior to Spyro's arrival in this world, Earthshapers have turned the six Satyrs, and the temple, into stone to silence their music.
Cutscenes
Edit
Opening Scene
Edit
The scene opens with a Satyr playing music on his bagpipe, while a faun and two pigs are dancing to the music. An Earthshaper nearby puts his hands to his ears, groaning, as he cannot take the music anymore. He walks up the hill to where the music is being played and stops. He then throws a rock up in the air and hits it with his weapon towards the Satyr. The stone collides with the Satyr, and petrifies him. With the music stopped, the pigs stop dancing and go back to walking around. The faun looks at the Satyr, surprised, and then looks at the Earthshaper, who laughs complacently.
Closing Scene
Edit
The scene opens with a Satyr playing music on his bagpipe, while a faun and a pig are dancing to his music. Three Earthshapers are seen with their hands to their ears, trying in vain to block out the music. The Satyr continues playing, and he smiles. One of the Earthshapers takes its hands off its ears. Its eyes, which are usually red, are now green. The Earthshaper cautiously looks at the other Earthshapers behind him. He then surprisingly, starts dancing to the Satyr's music, which has somehow calmed his angry and rageful spirit, if somewhat unwillingly.
Fracture Hills Intro and Closing Video Scene
Edit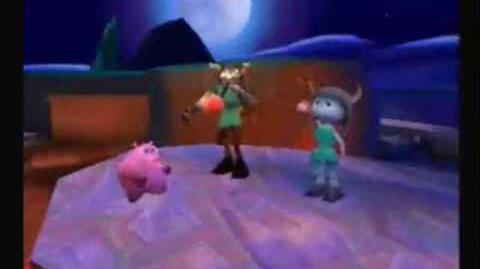 Characters
Edit
To see the Alchemist sidequest, watch the video on the Winter Tundra page.
Fracture Hills shares its theme with Idol Springs.
Unlike other characters, none of the Satyrs are named; usually, multiple characters of one kind (for example, the monks from Colossus) all have different names. This is probably because the Satyrs are not released in any particular order.
If you stand and watch any Earthshaper from afar, they will use their pickaxe to scratch their behind.
The pigs will dance when the Satyrs play their bagpipes.
There are two ways to break the door that contains Krista the Faun. If you already possess the superflame, you could simply flame the door. Also, if you "charge jump" in the supercharge the opposite way, you can supercharge through the back of the building, and turn around to the door to break it.
The background of Fracture Hills looks similar to the background of Dark Hollow.