Drobot
Talk

6
1,529pages on
this wiki
"Blink and Destroy!"
—Drobot's official catchphrase
Drobot is a robotic suit-wearing dragon who is one of the playable Skylanders in the Skylanders series, first appearing in Skylanders: Spyro's Adventure.
Background
Personality
Drobot may be smart, but he never shies away from a fight. Instead of waiting to be invited to be a Skylander, Drobot sought out Master Eon and offered his services.[1]
Biography
Dragons are smart, but none so much as Drobot. He was born in the highest reaches of Skylands, where dragons spent all their time competing in aerial battles. But Drobot was more interested in taking things apart to see how they worked. While exploring one day, Drobot came upon some mysterious technology, and used his intelligence to assemble a robotic suit that would make him just as powerful as his fellow dragons... if not more so. His suit features laser beams that shoot from his eyes, flight enhancement technology, a vocal synthesizer that gives him a deep booming voice, and the ability to shoot spinning gears at a high velocity. With such power, more than most other dragons, Drobot joined the Skylanders to help protect the residents of Skylands.
Abilities
Wearing his robotic suit, Drobot has the ability to shoot laser beams from his eyes. He can also launch spinning uranium bladegears that can hit against enemies and surrounding objects. Being a dragon, he has the ability to fly, and using his robot suit, he can hover in the air like a jet using his robotic wings.
Stats
These are the starting and maximum statistics for this Skylander in the console version of the games.

Health: 290 (max. 580)
Speed: 43 (max. 91)
Armor: 24 (max. 54)
Critical Hit: 20 (max. 70)
Elemental Power: 25 (max. 100)
Warning: These stats are not used in any of the Skylander games. They are only listed for completeness reasons.

Strength: 40
Agility: 60
Defense: 75
Luck: 45
Powers and Upgrades
Mega Blasters
Tactical Bladegears
Afterburners
wowpowname

Primary Ability
Shoot rapidfire laser blasts out of your eyes.

Secondary Ability
Deploy spinning bladegears that richochet off of walls and pummel enemies.

Price: 4000
Flys flaster and afterburners damage enemies.


Price: 5000
wowpowdesc

Basic Upgrades
Skylanders can buy new abilities from Persephone.
Thruster Flight
Galvanized Bladegears
Axon Foxus Crystals
Hover Mode.

Price: 500
Allows Drobot to fly.

Price: 700
Bladegears do increased damage.

Price: 900
Eye Blasters do increased damage.

Price: 1200
Allows Drobot to hover.
Master Blaster
This upgrade path lets you further develop your Eye Blaster attack.
Dendrite Focus Crystals
Antimatter Charges
Quadratic Blasters

Price: 1700
Eye Blasters do even more increased damage.

Price: 2200
Eye Blaster beams explode on contact, doing damage to nearby enemies.

Price: 3000
Shoot lasers out of your wings as well.
Clockwork Dragon
This upgrade path lets you further develop your Bladegear attacks.
Depleted Uranium Bladegears
Explosive Bladegears
Tri-Spread Bladegears

Price: 1700
Bladegears do even more increased damage.

Price: 2200
Bladegears explode on contact, doing damage to nearby enemies.

Price: 3000
Shoot 3 Bladegears at once.
Skylanders gain new abilities automatically based on their level.

Starting Powers
Pulse Lasers (Primary Attack): Fire twin laser blasters at enemies.
Sprocket Launch (Secondary Attack): Shoot two metal sprockets at enemies to stun them.
Upgrades
Wingtip Wrath (requires level: 3): Drobot's wings have been equipped with laser blasters. Hold (Y) to fire all four of his lasers at enemies.
Afterburner (requires level: 6): Sprint (A) with Drobot's thrusters to leave a trail of flame's behind him. Drobot will Sprint faster after damaging an enemy with this attack.
Sprocket Lock (requires level: 9): Hold (x) and release to fire three electric sprockets that deal extra damage.The first enemy hit by this attack will be automaticaly targeted b Drobot's wing lasers for a few seconds.
Minigame Abilities
Skylanders get special abilities in minigames based on their element.
| | | | | |
| --- | --- | --- | --- | --- |
| Sky Defense | | Castle Assault | | Ground Defense |
| Make the turret shoot like a machine gun. | | Launch a projectile that explodes like a bomb. | | Create a time bomb and leave it on the ground. |
Character Trailers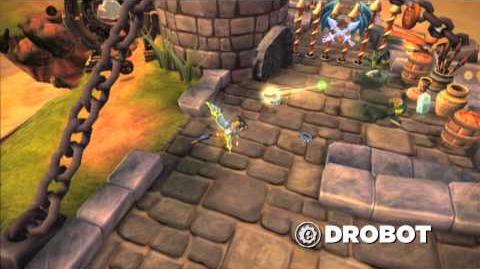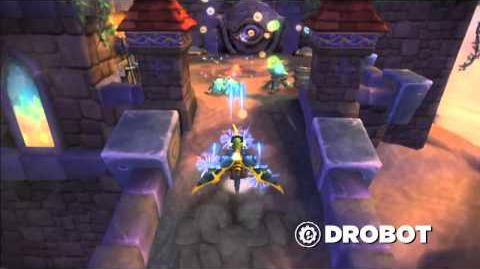 Gallery
Trivia
Drobot's name is is most likely a combination of "dragon" and "robot".
His original color scheme was reddish brown to most likely match the color of his element like the other dragon skylanders.
It should be noted that when one first purchases the abilty to fly, Drobot moves extremely fast but if he stops or crashes into something, he will return to the ground.
While using Thruster flight, launching the bladegears sends them flying backwards.
Since he uses a vocal synthesizer that gave him a deep booming voice, it is currently unknown what Drobot's real voice sounds like.
Drobot slightly resembles Festus from Rick Riordan's, "The Lost Hero" book.
Drobot may have a remodel in Skylanders Giants.
He relaxes by playing chess - against himself.[1]
References
Locations
Hubs
Ruins (Console) - Sanctuary (3DS)
Console Chapters
Shattered Island - Perilous Pastures - Sky Schooner Docks - Stormy Stronghold - Oilspill Island - Dark Water Cove - Leviathan Lagoon - Crystal Eye Castle - Stonetown - Treetop Terrace - Falling Forest - Troll Warehouse - Goo Factory - Battlefield - Crawling Catacombs - Cadaverous Crypt - Creepy Citadel - Molekin Mine - Lava Lakes Railway - Quicksilver Vault - Arkeyan Armory - Lair of Kaos
Console Battle Arenas
Cyclops Square - Mushroom Grove - Aqueduct - Troll Factory


Pirate Grotto -

The Necropolis -

Icicle Isle -

Cube Dungeon -

Volcanic Vault
3DS Realms
Towersight Fields - The Proving Grounds - Flooded Viaducts - Radiant Fountain - Dreamgardens - Ashburrow - Magma Bank Island - Cinderstream Pass - Luminous Quarry - Lava Flow Grotto - Snowblind Hills - Frostsedge - Glacial Slopes - Icelight - Aurora Peak - Leaflook Village - Breakmarsh - Daystar Temple - Treetop Circle - Waterwalk Way - Sunblight Wood - Thundersquall - Whipwind Mountains - Stormseye - Galecrack Castle - Dark Mirror
Adventure Pack Chapters


Pirate Seas -

Darklight Crypt -

Empire of Ice -

Dragon's Peak
Locations
Hubs
Cap'n Flynn's Ship
Console Chapters
Time of the Giants - Junkyard Isles - Rumbletown - Cutthroat Carnival - Glacier Gully - Secret Vault of Secrets - Wilikin Village
- Troll Home Security - Kaos' Kastle - Aerial Attack! -Drill-X's Big Rig - Molekin Mountain - The Oracle - Autogyro Adventure
Lost City of Arkus - Bringing Order to Kaos!
Console Battle Arenas
Cyclops Square - Mushroom Grove - Aqueduct - Troll Factory
Slime Pipe
3DS Realms
Pirate Bay - Head Hunting - Lost and Found - Through the Ruins - Tiki Rumble - Sand Trap - The Tar Pits - The Windy Dunes -
A Walk in the Park - Westernland - Tunnel of Love - Murky Waters - Stuck in the Mud - Overgrowth - Marsh Madness
- Cannon Fodder - Ships Ahoy - Phantom Tide Rising - Saving Skylands
Adventure Pack Chapters


Pirate Seas -

Darklight Crypt -

Empire of Ice -

Dragon's Peak