Crystal Glacier
Talk

0
1,529pages on
this wiki
Crystal Glacier

World Type:
Realm
Homeworld:
Autumn Plains
Native Species:
Ice Builders
400
2
38
Fodder:
Snowballs
Talisman:
Ice Crystal
Appearances:
Spyro 2: Ripto's Rage!
The Crystal Glacier is an icy world in Autumn Plains in Avalar. The level is inhabited by Eskimo versions of the cavemen from Skelos Badlands (known as Icebuilders), ruled by a elder named Chief Shaman Tuk. They had Tickets for tonight's Hockey game at Colossus, but unfortunately the Ice Wizards have froze them and captured the Elder! Unfreeze them with Spyro's Flame Breath and they'll lead you to the Elder and rescue him.
Cutscenes
Edit
Opening Scene
Edit
The scene opens showing Chief Shaman Tuk being taken captive by the Ice Wizards and imprisoned. Two Eskimos see this and plan to free him. They go to the side of the prison, and plan to free him from the top. One of the Eskimos gets on the other, and jumps up to the top. Unfortunately, an Ice Wizard at the top, sees the Eskimo, and throws a snowball at him, freezing him solid. The frozen Eskimo then lands atop his partner, not moving.
Closing Scene
Edit
Three Eskimos are atop the prison, and one of them places a flag down, showing their insignia. He backs up a little too far, and falls down into the snow. One of them laughs at the fallen Eskimo, until the other pushes him off the building, into the snow. The final one, then jumps into the snow, as well. They are all seen with their heads buried in the snow, yelping for help. Chief Shaman Tuk, who witnessed the falls, shakes his head in embarassment.
Intro and Closing Video
Edit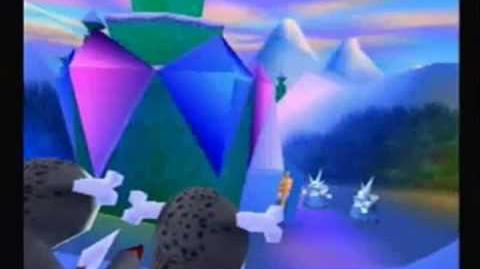 Orb Challenges
Edit
Shaman Tik informs Spyro about a large cave in Crystal Glacier, which they used to give guided tours, has become infested with giant, ferocious spiders called Draclets. Use the Superfly Powerup to fly through the cave and kill all the Draclets. An Elder will than give you an Orb.
Shaman Tok has lost his pet snow leopard George. Drop down a hole and Flame fish that come out of ice to get them to the ground for George to eat. After eating 3 or 4 fish George will be tamed and will follow you. Lead him to his master.
Characters
Edit
Ice Builders

Widgie
Kludgie
Iggy
Oggy
At least six others

Shamans
The music in the cutscenes is different from the stage's actual music.