Crystal Flight (クリスタル スカイ 3-5 Crystal Sky 3-5 in Japanese) is the Magic Crafters Speedway. This realm is directly behind a crystallized dragon. It is filled with Crystals in a body of water and semi-dark sky.
Statistics
8 Rings
8 Arches
8 Chests
8 Planes
Enemies
Walkthrough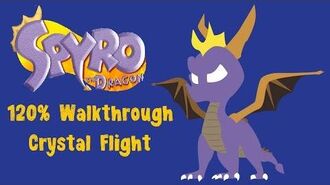 Trivia
The music from this stage is a faster and slightly edited version of the Stone hill theme.
In the late demo, the level is called "FLYING", has a lesser count of minutes and use the title screen music.
Ad blocker interference detected!
Wikia is a free-to-use site that makes money from advertising. We have a modified experience for viewers using ad blockers

Wikia is not accessible if you've made further modifications. Remove the custom ad blocker rule(s) and the page will load as expected.