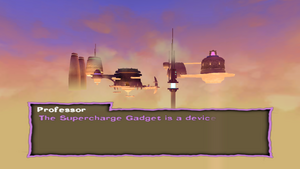 Cloudy Domain is a realm in the Lost Cities homeworld that only appeared in Spyro: A Hero's Tail. Although high in the clouds, it has an ominous feel, with a reddish sky, metal platforms, and winged gnorcs hovering around. It has the feel of an industrial factory, with machinery everywhere, such as elevator platforms with fans on the bottom. It is also one of the more dangerous realms, as there is a great risk of falling while jumping platforms or standing on a Disappearing Ring Platform. Because it's unique design, it is hard to infer which species created this land.
Guide
Egg Locations
Dark Gem Locations
Light Gem Locations
Mini-Games
Characters
Allies
Trivia
Ad blocker interference detected!
Wikia is a free-to-use site that makes money from advertising. We have a modified experience for viewers using ad blockers

Wikia is not accessible if you've made further modifications. Remove the custom ad blocker rule(s) and the page will load as expected.