Cliff Town (クリフ タウン 2-2; Cliff Town) is a realm from the Peace Keepers Homeworld. It consists of a town with many houses for Spyro to jump on, built beside and into a dry, rocky cliff with a river running through. Across the river is a large, elevated, desert-like landmass that contains a huge colony of Vultures and the highest point in Cliff Town, as stated by Marco.
Description
Cliff Town consists of a town surrounded by cliffs and a river of tar. Across the river is a large, elevated, desert landmass that contains a huge colony of vultures. According to Marco, the highest point in Cliff Town is also located there. Along the back of the realm, a twisting building has bridges that reach the top.
This area of Cliff Town consist of a cliff and a ground area with tunnels leading to another cliff with a wall separating it in two parts and a house on top where a family of armadillos live, and a river of water separating the it from a cliff that leads back to the main Dragon Realms.
Tunnels
There are three tunnels, two of them leads further down into the ground an has a lot of treasure buried down there, while the third one leads upwards to the cliff with the armadillos' house on top of it. The tunnels are inhabited by yetis and moths, while Shadow Minions lurks around in the Shadow Realm counterpart.
Statistics
Spyro the Dragon
Enemies
Dragons
Spyro: Shadow Legacy
Enemies
Allies
Walkthrough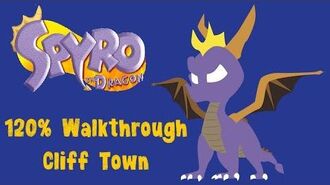 Gallery
Trivia
Ad blocker interference detected!
Wikia is a free-to-use site that makes money from advertising. We have a modified experience for viewers using ad blockers

Wikia is not accessible if you've made further modifications. Remove the custom ad blocker rule(s) and the page will load as expected.